Allure Sideboard
AED 9,950.00
Cozy Home Dubai presents you with a sleek design of 'Allure Sideboard.' It is a versatile piece of furniture. It is manufactured with high-quality wood, which is polished to give it a smooth touch. The wooden body provides this sideboard with natural aesthetics. It is a multi-functional sideboard that can be used for various purposes.
The 'Allure Sideboard' provides ample storage space. Its four drawers and two small cabinets are aligned in a perfect layout. They have enough space to store your goods, whatever you want. This sideboard can be used for showcasing different decoration pieces on its top. It has curved edges that give it a luxurious touch. Its smooth texture and timeless beauty make it a perfect choice for your living space.
Crafted with top-quality wood, it is a timeless beauty.
Curved edges provide a modern touch.
Four drawers and two small cabinets offer enough storage area.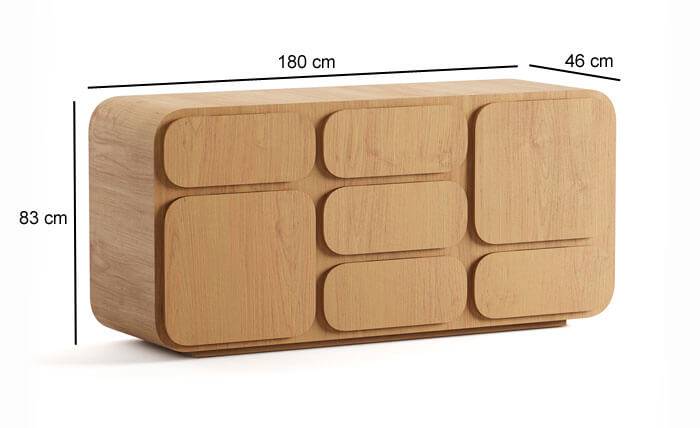 Length
: 180
Width
: 46
Height
: 83
Measurement tolerance (±cm)
: 3
Number of units per SKU
: 1
Use
: Domestic
Indoor (yes/no)
: Yes
For use in covered outdoor spaces (yes/no)
: No
For outdoor use (yes/no)
: No
Adjustable feet (yes/no)
: No
Number Of Drawers
: 4
Number Of Doors
: 2
Adjustable Shelves
: No
Number of packages
: 1
Package dimensions
: Length 185cm, Width 51cm, Height 88cm
Packaging materials
: 97% Carton-Paper, 3% Polyethylene terephthalate (PET)
Materials
: Teak Wood, Oak Wood
Main finishing
: Teak Wood, Oak Wood
Frame construction
: Teak Wood, Oak Wood
Unpacking suggestions
: Be careful opening with a knife.
Assembly required (yes/no)
: No
General warnings
: Do not place near direct sources of heat. Keep away from direct solar light. Do not use abrasive products like acetones, bleaches, solvents, etc. Sharp elements can scratch the product surface.