Caspian Sofa
AED 12,450.00
Caspian Sofa
AED 12,450.00
Presenting the "Caspian Sofa" – a combination of style and comfort that indicates to experience elegance, at Cozy Home Dubai. Its rounded shape is eye-catching. The Caspian sofa becomes a masterpiece that defines your space with unique comfort. This design boasts graceful, rounded curves that warmly surround you in comfort. This sofa is evidence of firm comfort, created to keep you in a state of relaxation and covered in soft light brown cotton bouclé fabric.
Elevate your space with the "Caspian Sofa." Its soft curves provide grace. The extra-cushioned design keeps you in a luxury world while the seat balances soft curves and unending elegance. The sturdy seat structure ensures continuing shape-retaining. Its sleek, modern style and curved back make it the central point of attention.
Its attractive and curvy shape immediately catches your attention.
The rounded curves that surround you in luxury.
Adorned in luxurious cotton bouclé fabric.
Smooth lines and soft curves create an air of natural elegance.
Extra-cushioned design ensures a world of luxury.
Sturdy seat structure reserves shape and comfort even after continued use.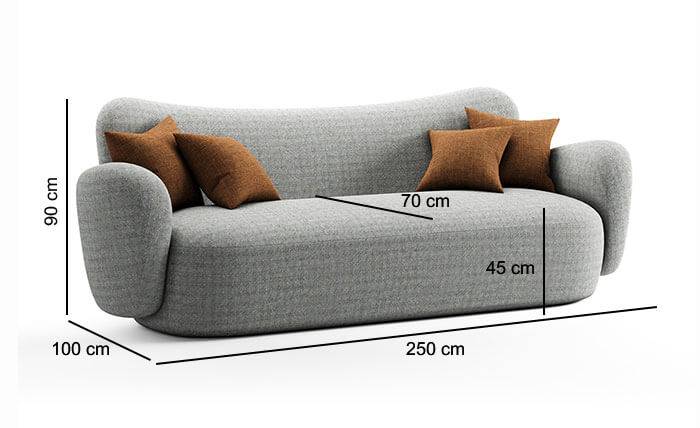 Width
: 250
Depth
: 100
Height
: 90
Seat Height
: 45
Seat WIdth
: 70
Armrest Height
: 65
Armrest Width
: 12
Measurement tolerance (±cm)
: 3
Foam hardness level
: Medium
Number of units per SKU
: 1
Use
: Domestic
Indoor (yes/no)
: Yes
For use in covered outdoor spaces (yes/no)
: No
For outdoor use (yes/no)
: No
Seating capacity
: 3
Sliding seat (yes/no)
: No
Seat removable cover (yes/no)
: No
Backrest removable cover (yes/no)
: No
Adjustable feet (yes/no)
: No
Armrest included (yes/no)
: Yes
Armrest removable cover (yes/no)
: No
Number of packages
: 1
Package dimensions
: Length: 255cm, Width: 105cm, Height: 95cm
Packaging materials
: 97% Carton-Paper, 3% Polyethylene terephthalate (PET)
Unpacking suggestions
: Be careful opening with a knife.
Assembly required (yes/no)
: No
General warnings
: Do not place near direct sources of heat. Keep away from direct solar light. Do not use abrasive products like acetones, bleaches, solvents, etc. Sharp elements can scratch the product surface.