Divine Sideboard
AED 10,875.00
A divine Sideboard is one of the unique types of furniture for the home provided by Cozy House Dubai. The table is made of kiln-dried solid and engineered wood. It has six roomy drawers in which you keep your personal and important things. It looks stylish and modern and makes the home attractive. A gentle push opens the six big drawers on this sideboard, giving it a luxurious appearance. You can load things with up to 200 pounds. In a way, it's like getting cool and helpful at the same time. You can keep your books and important things in the six boxes on the table. With the help of a divine sideboard, your room looks pretty. You can put some vases and flowers on the top of this table for home decoration.
To open drawers is very simple and easy.
It can hold heavy things
The room looks pretty with this table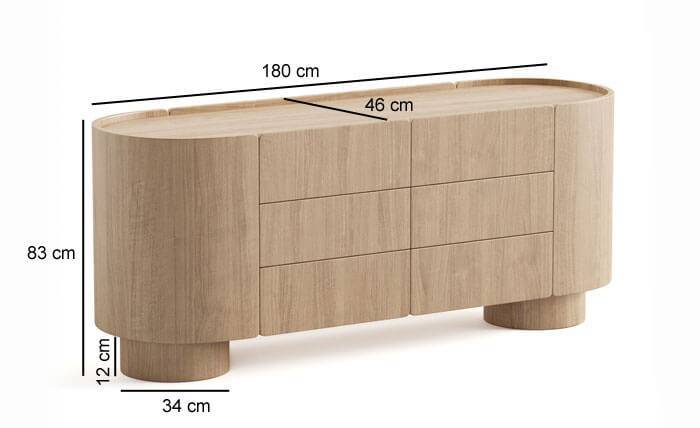 Length
: 180
Width
: 46
Height
: 83
Leg height (cm)
: 12
Leg height (free space under the item)
: 12
Measurement tolerance (±cm)
: 3
Number of units per SKU
: 1
Use
: Domestic
Indoor (yes/no)
: Yes
For use in covered outdoor spaces (yes/no)
: No
For outdoor use (yes/no)
: No
Adjustable feet (yes/no)
: No
Number Of Drawers
: 6
Number of packages
: 1
Package dimensions
: Length 185cm, Width 51cm, Height 88cm
Packaging materials
: 97% Carton-Paper, 3% Polyethylene terephthalate (PET)
Materials
: Solid Wood, Oak Wood Veneer
Main finishing
: Oak Wood
Frame construction
: Solid Wood
Legs material
: Solid Wood
Unpacking suggestions
: Be careful opening with a knife.
Assembly required (yes/no)
: No
General warnings
: Do not place near direct sources of heat. Keep away from direct solar light. Do not use abrasive products like acetones, bleaches, solvents, etc. Sharp elements can scratch the product surface.