Felicia L Shape Sofa - Left Chaise
AED 19,795.00
Felicia L Shape Sofa - Left Chaise
AED 19,795.00
The Felicia sofa has a sleek and modern design made with traditional craftsmanship. Its design has all the characteristics of contemporary modern furniture; clean lines, metal legs and astute attention to detail. The seat, arms and back cushion each have a beautiful detail that is meticulously hand-sewn and the arms of the sofa have a pronounced slope outwards which adds to its already elegant silhouette. Upholstered in a range of top class luxurious fabrics ,or buttery soft nappa leather, the Felicia sofa is a masterclass in contemporary design, and provides a generous seating space within a compact footprint.
Fifth middle leg added to the centre of the sofa as extra support
Seats exclusively made from high resilience foam which provide no-sag seating comfort
Beautiful detail on seat, arms and double back cushions
Compact yet generous design carries a small footprint for a sleek silhouette.
Skillfully upholstered in either luxurious buttery soft full aniline leathers or luxurious fabrics
Made with traditional craftsmanship
Length
: 335
Width
: 170
Depth
: 110
Height
: 85
Seat Height
: 45
Seat WIdth
: 65
Armrest Width
: 10
Leg height (cm)
: 15
Leg height (free space under the item)
: 15
Measurement tolerance (±cm)
: 3
Foam hardness level
: Medium
Number of units per SKU
: 2
Use
: Domestic
Indoor (yes/no)
: Yes
For use in covered outdoor spaces (yes/no)
: No
For outdoor use (yes/no)
: No
Seating capacity
: 4-5
Seat removable cover (yes/no)
: Yes
Backrest removable cover (yes/no)
: Yes
Adjustable feet (yes/no)
: No
Armrest included (yes/no)
: Yes
Armrest removable cover (yes/no)
: No
Additional cushion included (yes/no)
: Yes
Number of packages
: 2
Packaging materials
: 97% Carton-Paper, 3% Polyethylene terephthalate (PET)
Materials
: Solid Wood, Foam, Fabric, Stainless Steel Legs
Frame construction
: Solid Wood
Seat material details
: Foam, Fabric
Legs material
: Stainless Steel
Unpacking suggestions
: Be careful opening with a knife.
Assembly required (yes/no)
: Yes
Difficulty of assembly
: Easy
Assembly time
: 15min
People required
: 2
Assembly suggestions
:
Assemble on a soft protecting surface.
General warnings
: Do not place near direct sources of heat. Keep away from direct solar light. Do not use abrasive products like acetones, bleaches, solvents, etc. Sharp elements can scratch the product surface.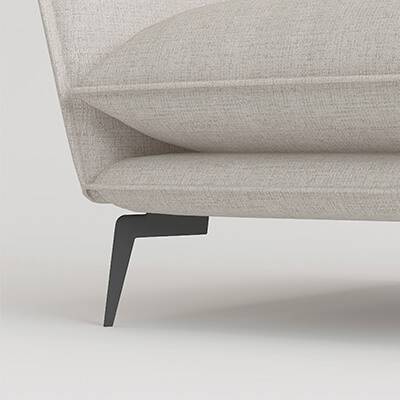 Sleek angular legs in metal define the sleek silhouette of the Felicia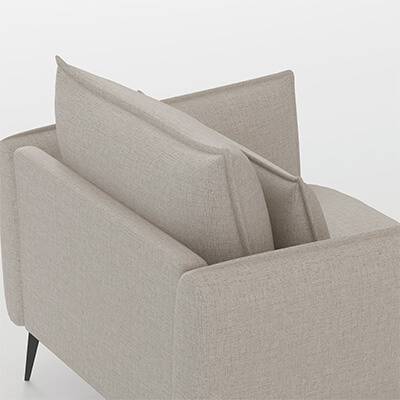 Twin back cushions of varying heights provide ample back support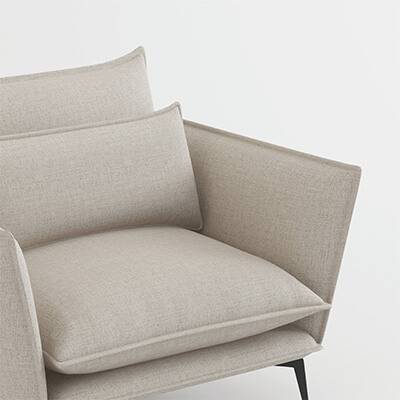 The seats are tapered round toward the edges to give a futuristic look