Knox Ottoman
AED 4,650.00
Knox Ottoman
AED 4,650.00
Introducing the "Knox Ottoman"– a masterpiece that gives the experience of comfort and artistry solely from Cozy Home Dubai. The Puff Lazy Sofa is made to make your sitting experience better. When you sit, it feels comfy because there are two layers of special foam around you.
The cloth, resistant to stains, water, and sunlight, promises toughness and gives easy repair. Embrace the flexibility of this sofa, composed of elements that may be artfully organized to suit your area, providing unlimited flexibility. Sitting on a modern, shiny base, the Knox Ottoman combines comfort and accuracy with interesting symmetrical lines that decorate the seat.
Immerse yourself within the comfort of the Puff Lazy Sofa.
Carefully decided on foam layers for excellent seating enjoyment.
A base adds a modern interaction to the beautiful design.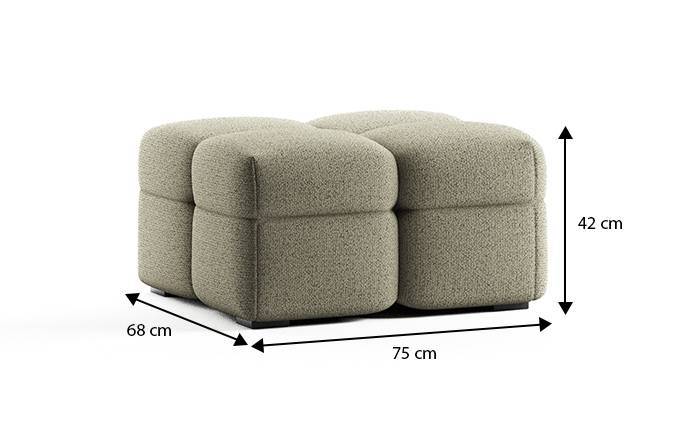 Length
: 75
Width
: 68
Height
: 42
Seat Height
: 42
Seat WIdth
: 68
Leg height (cm)
: 2
Measurement tolerance (±cm)
: 3
Foam hardness level
: Medium
Number of units per SKU
: 1
Use
: Domestic
Indoor (yes/no)
: Yes
For use in covered outdoor spaces (yes/no)
: No
For outdoor use (yes/no)
: No
Seating capacity
: 1
Sliding seat (yes/no)
: No
Seat removable cover (yes/no)
: No
Adjustable feet (yes/no)
: No
Armrest included (yes/no)
: No
Number of packages
: 1
Package dimensions
: Length 80cm, Width 73cm, Height 50cm
Packaging materials
: 97% Carton-Paper, 3% Polyethylene terephthalate (PET)
Unpacking suggestions
: Be careful opening with a knife.
Assembly required (yes/no)
: No
General warnings
: Do not place near direct sources of heat. Keep away from direct solar light. Do not use abrasive products like acetones, bleaches, solvents, etc. Sharp elements can scratch the product surface.