Lincoln Cloud Two Seater Sofa
AED 13,890.00
Lincoln Cloud Two Seater Sofa
AED 13,890.00
With its deep-seated design, double cushion seat, timeless silhouette, and ultra-soft feel, the Lincoln Cloud recreates the feeling id curling up in a soft, fluffy cloud. Living up to its name, it's one of the softest and most comfortable sectionals, making it a great option for those who seek absolute comfort.
The relaxed aesthetic of the sofa fits almost any modern home and it comes in various modules, making it super simple to configure in your own space. It's a modern marriage of perfect promotions and unmatched comfort.
Down-filled seats and back cushions for extremely soft comfort.
The seats are comprised of two layers. The bottom layer is a high resilience foam that provides support and a bounce-back feeling once you have left the sofa, while the top layer is comprised of pure feather and down giving a sink-in feeling.
Made in Europe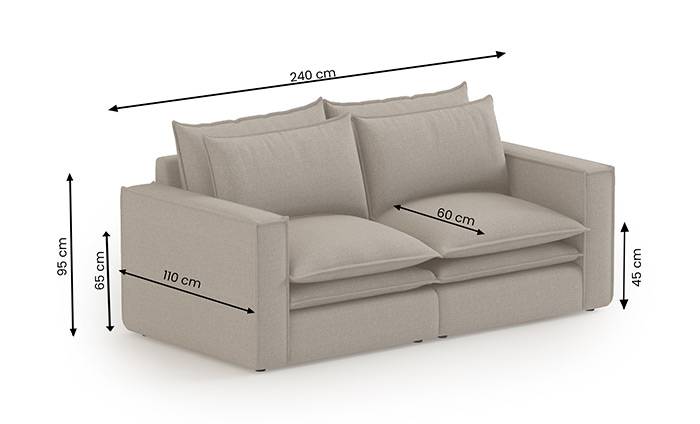 Width
: 240
Depth
: 110
Height
: 95
Seat Height
: 45
Seat WIdth
: 60
Armrest Height
: 65
Armrest Width
: 15
Leg height (cm)
: 4
Leg height (free space under the item)
: 4
Measurement tolerance (±cm)
: 3
Foam hardness level
: Soft
Number of units per SKU
: 2
Use
: Domestic
Indoor (yes/no)
: Yes
For use in covered outdoor spaces (yes/no)
: No
For outdoor use (yes/no)
: No
Seating capacity
: 2
Sliding seat (yes/no)
: Yes
Seat removable cover (yes/no)
: Yes
Backrest removable cover (yes/no)
: Yes
Adjustable feet (yes/no)
: No
Armrest included (yes/no)
: Yes
Armrest removable cover (yes/no)
: No
Additional cushion included (yes/no)
: Yes
Number of packages
: 2
Package dimensions
: Length: 125cm, Width: 115cm, Height: 100cm
Packaging materials
: 97% Carton-Paper, 3% Polyethylene terephthalate (PET)
Unpacking suggestions
: Be careful opening with a knife.
Assembly required (yes/no)
: No
General warnings
: Do not place near direct sources of heat. Keep away from direct solar light. Do not use abrasive products like acetones, bleaches, solvents, etc. Sharp elements can scratch the product surface.
Origin country
: Europe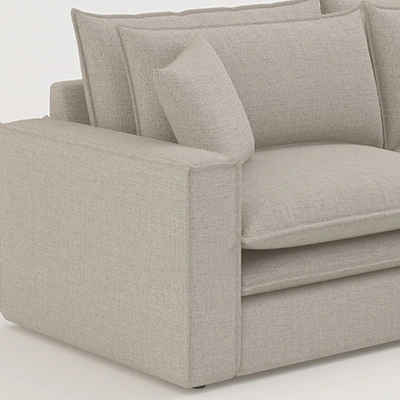 An expression of geometric volumes and at the same time soft and welcoming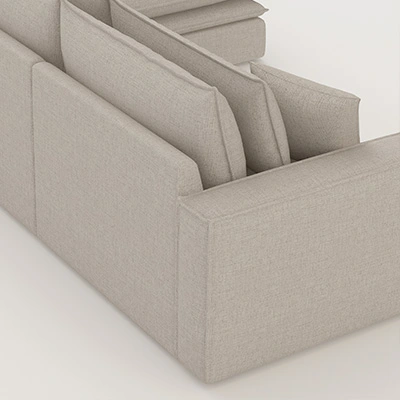 Elegant yet contemporary frame design to suit all designs of home. Solid wood construction to give years of use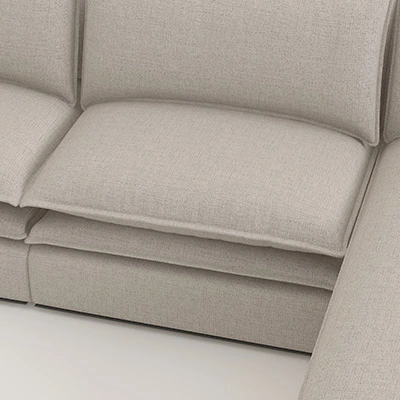 Sink-in cushions for heavenly soft sitting comfort. The top layer is purely from down and feathers. The bottom layer is made from high-resilience foam