Massimo 1 Seater
AED 7,450.00
Massimo 1 Seater
AED 7,450.00
Introducing the "Massimo 1 Seater" – a brilliant blend of innovation and comfort that beckons you to experience the extraordinary. Cozy Home Dubai presents this masterpiece, modular luxury that expands horizons. Experience the charm of a round, bubbly-shaped sofa, and you'll be immersed in the splendor of an oversized lounge chair. Every detail contained softness, from its captivating inward-curving armrests to the lavish expanse of oversized cushions. This isn't just furniture; it's a work of art that brings the concept of adult bean bags to a new level. Massimo 1 Seater welcomes you into its well-proportioned seat depth. Sink into the indulgent embrace of cushions upholstered with polyurethane, each touch a testament to luxurious comfort. The Massimo 1 Seater invites you to redefine your living space. It offers a symphony of style and relaxation that captivates the senses and the heart.
Round, a bubbly-shaped sofa that enchants the eye.
From the curved armrests to the indulgent oversized cushions, softness reigns.
Experience the essence of an adult bean bag within a perfectly proportioned seat.
Sink into cushions upholstered with polyurethane, a touch of luxury and comfort.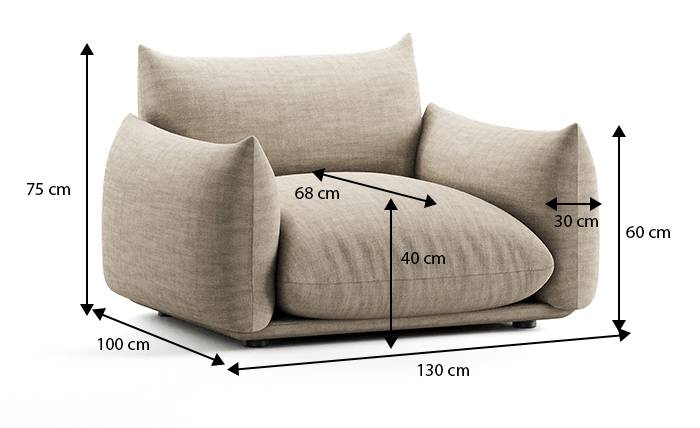 Width
: 130
Depth
: 100
Height
: 75
Seat Height
: 40
Seat WIdth
: 68
Armrest Height
: 60
Armrest Width
: 30
Leg height (cm)
: 5
Leg height (free space under the item)
: 5
Measurement tolerance (±cm)
: 3
Foam hardness level
: Medium
Number of units per SKU
: 1
Use
: Domestic
Indoor (yes/no)
: Yes
For use in covered outdoor spaces (yes/no)
: No
For outdoor use (yes/no)
: No
Seating capacity
: 1
Sliding seat (yes/no)
: Yes
Seat removable cover (yes/no)
: Yes
Backrest removable cover (yes/no)
: No
Adjustable feet (yes/no)
: No
Armrest included (yes/no)
: Yes
Armrest removable cover (yes/no)
: No
Additional cushion included (yes/no)
: No
Number of packages
: 1
Package dimensions
: Length: 135cm, Width: 105cm, Height: 80cm
Packaging materials
: 97% Carton-Paper, 3% Polyethylene terephthalate (PET)
Unpacking suggestions
: Be careful opening with a knife.
Assembly required (yes/no)
: No
General warnings
: Do not place near direct sources of heat. Keep away from direct solar light. Do not use abrasive products like acetones, bleaches, solvents, etc. Sharp elements can scratch the product surface.
Origin country
: Europe