Massimo 2 Seater Sofa
AED 12,650.00
Massimo 2 Seater Sofa
AED 12,650.00
Introducing the Massimo 2-Seater Sofa from Cozy Home Dubai – a sofa designed to offer you the satisfaction of both worlds: comfort and guidance! With its stylish design, you can sink into its cushions and experience the exact stability of relaxation and the right amount of support.
The sofa's cozy cushions are covered with fabric that can be easily removed. The Massimo 2-seater Sofa features inward-curving armrests and big-sized cushions that provide a feeling of softness and ultimate relaxation, making it an outstanding spot for analyzing, watching TV, or, in reality, relaxing after a long day. Its sturdy metal tubular frame guarantees sturdiness and balance, so you can experience this comfort for years.
Perfect balance of support and relaxation.
Easily removable cloth covers for hassle-free cleaning.
Inward-curving armrests and oversized cushions for added comfort.
Sturdy metal tubular frame for sturdiness.
A relaxed spot for relaxation, reading, or watching TV.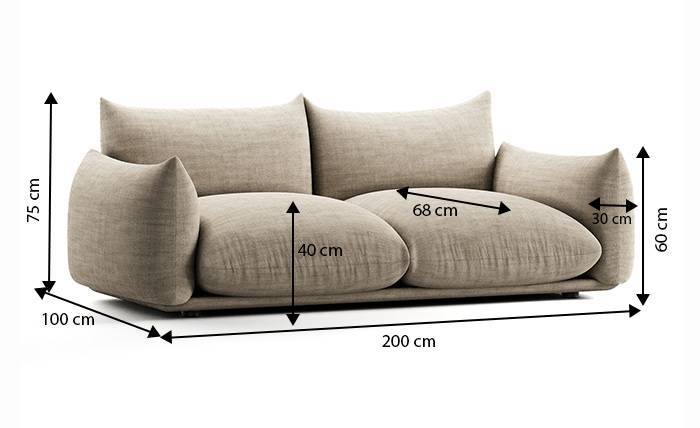 Width
: 200
Depth
: 100
Height
: 75
Seat Height
: 40
Seat WIdth
: 68
Armrest Height
: 60
Armrest Width
: 30
Leg height (cm)
: 4
Leg height (free space under the item)
: 4
Measurement tolerance (±cm)
: 3
Foam hardness level
: Medium
Number of units per SKU
: 1
Use
: Domestic
Indoor (yes/no)
: Yes
For use in covered outdoor spaces (yes/no)
: No
For outdoor use (yes/no)
: No
Seating capacity
: 2
Sliding seat (yes/no)
: Yes
Seat removable cover (yes/no)
: Yes
Backrest removable cover (yes/no)
: No
Adjustable feet (yes/no)
: No
Armrest included (yes/no)
: Yes
Armrest removable cover (yes/no)
: No
Additional cushion included (yes/no)
: Yes
Number of packages
: 1
Package dimensions
: Length: 205cm, Width: 105cm, Height: 80cm
Packaging materials
: 97% Carton-Paper, 3% Polyethylene terephthalate (PET)
Unpacking suggestions
: Be careful opening with a knife.
Assembly required (yes/no)
: No
General warnings
: Do not place near direct sources of heat. Keep away from direct solar light. Do not use abrasive products like acetones, bleaches, solvents, etc. Sharp elements can scratch the product surface.
Origin country
: Europe