Maverick Chaise Lounge
AED 7,450.00
Maverick Chaise Lounge
AED 7,450.00
Experience the captivating charm of the "Maverick Chaise Lounge Sofa" at cozy Home Dubai. This sofa is a masterpiece with stunning design and matchless comfort. With its attractive wave-shaped beauty, it becomes a piece of art that transforms every moment into a luxurious experience.
Indulge in luxury with the "Maverick Chaise Lounge Sofa." Its high-quality fabric is adorned with line focusing, creating an eye-catching visual masterpiece that elevates your interior. The raised polyester seating smoothly blends texture and comfort for a truly generous experience. It is crafted to accept the demands of daily life. The sofa's fabric is designed to examine stains and wear, making it durable for a long time. Whether you seek a classic chaise or a functional masterpiece, the "Maverick Chaise Lounge Sofa" is ready to redefine your living space with a touch of luxury.
The attractive wave-shaped design adds charm to your living space.
High-quality fabric adorned with dramatic lines focusing on an eye-catching statement.
Delicate raised polyester seating design combines texture with maximum comfort.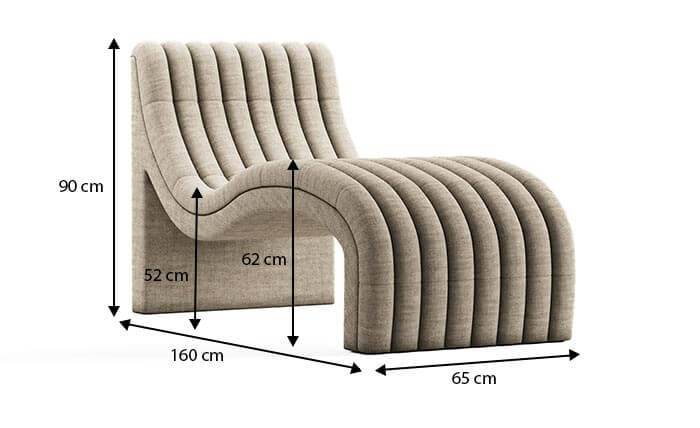 Length
: 65
Width
: 160
Height
: 90
Seat Height
: 52, 62
Measurement tolerance (±cm)
: 3
Foam hardness level
: Medium
Number of units per SKU
: 1
Use
: Domestic
Indoor (yes/no)
: Yes
For use in covered outdoor spaces (yes/no)
: No
For outdoor use (yes/no)
: No
Seating capacity
: 1
Sliding seat (yes/no)
: No
Seat removable cover (yes/no)
: No
Adjustable feet (yes/no)
: No
Number of packages
: 1
Packaging materials
: 97% Carton-Paper, 3% Polyethylene terephthalate (PET)
Materials
: Solid Wood, Foam, Fabric
Frame construction
: Solid Wood
Seat material details
: Foam, Fabric
Unpacking suggestions
: Be careful opening with a knife.
Assembly required (yes/no)
: No
General warnings
: Do not place near direct sources of heat. Keep away from direct solar light. Do not use abrasive products like acetones, bleaches, solvents, etc. Sharp elements can scratch the product surface.