Oliver Chaise Lounge
AED 5,300.00
Oliver Chaise Lounge
AED 5,300.00
Introducing the "Oliver Chaise Lounge Sofa", – where the smooth rectangular shape and modern angles create a combination of art and comfort. This sofa is a combination of aesthetics and innovation. The sofa is supported by stainless steel feet. It stands as a visual marvel that also promises solid stability.
Elevate your lounging experience with the "Oliver Chaise Lounge Sofa." Sink into padded armrests that promise comfort. The perfect combination of luxurious back cushions and smooth lines creates a welcoming seating space. Enjoy luxury with a backrest and headrest that you can adjust to find your perfect relaxing position. The side parts offer you style and adaptability. This sofa has removable covers for easy maintenance. Stainless steel feet provide elegance with stability.
Luxuriously designed armrests invite you to relax in lavish comfort.
Luxury back cushions and smooth lines unite to craft the perfect haven.
Customizable comfort with adjustable backrest and separate headrest.
Effortless maintenance with removable covers.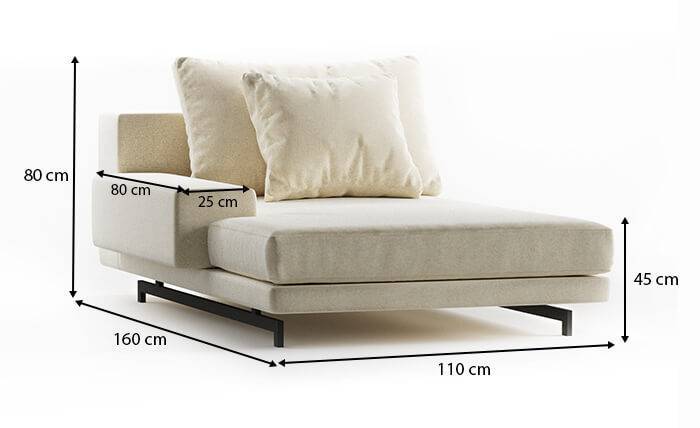 Length
: 110
Width
: 160
Height
: 80
Seat Height
: 45
Armrest Height
: 55
Armrest Width
: 25
Leg height (cm)
: 15
Leg height (free space under the item)
: 15
Measurement tolerance (±cm)
: 3
Foam hardness level
: Medium
Number of units per SKU
: 1
Use
: Domestic
Indoor (yes/no)
: Yes
For use in covered outdoor spaces (yes/no)
: No
For outdoor use (yes/no)
: No
Seating capacity
: 1
Sliding seat (yes/no)
: Yes
Seat removable cover (yes/no)
: Yes
Backrest removable cover (yes/no)
: Yes
Adjustable feet (yes/no)
: No
Armrest included (yes/no)
: Yes
Armrest removable cover (yes/no)
: No
Number of packages
: 1
Packaging materials
: 97% Carton-Paper, 3% Polyethylene terephthalate (PET)
Materials
: Solid Wood, Foam, Fabric, Stainless Steel Legs
Frame construction
: Solid Wood
Seat material details
: Foam, Fabric
Legs material
: Stainless Steel
Unpacking suggestions
: Be careful opening with a knife.
Assembly required (yes/no)
: Yes
Difficulty of assembly
: Easy
Assembly time
: 15min
People required
: 2
Assembly suggestions
:
Assemble on a soft protecting surface.
General warnings
: Do not place near direct sources of heat. Keep away from direct solar light. Do not use abrasive products like acetones, bleaches, solvents, etc. Sharp elements can scratch the product surface.