Parker Chaise Lounger
AED 6,495.00
Parker Chaise Lounger
AED 6,495.00
Introducing the "Parker Chaise Lounger" – where luxurious comfort meets stylish design, exclusively from Cozy Home Dubai. Immerse yourself in an unparalleled relaxation. This sofa transports you to the realm of ultimate comfort, where lying down becomes an art of indulgence. Every detail of this lounger is designed to delight your mind. Its comfortable cushioning, inviting backrest, and armrest are perfect for you.
The modularity of this masterpiece knows no bounds. Diverse combinations in length and width, it embodies your desires. Crafted with the utmost care for your well-being and the environment. Its covers are removable, offering you the ease of maintenance and customization. The strong plywood frame and aluminum legs provide a robust foundation. The "Parker Chaise Lounger" boasts your experience to new heights.
This sofa redefines lying down, delivering an exceptionally relaxing experience.
Backrests and armrests increase comfort
Available in regular seating depth modules, allowing customization to suit your unique preferences.
Removable covers offer easy maintenance
Strong plywood frame and aluminum legs provide a foundation of quality and durability.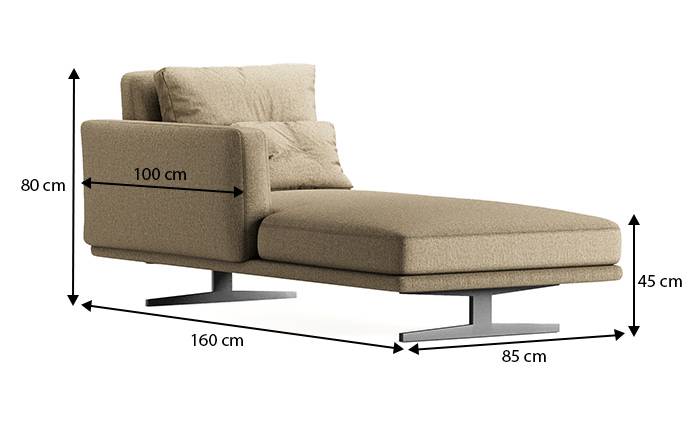 Length
: 160
Width
: 85
Height
: 80
Seat Height
: 45
Seat WIdth
: 100
Armrest Height
: 70
Armrest Width
: 10
Leg height (cm)
: 15
Leg height (free space under the item)
: 15
Measurement tolerance (±cm)
: 3
Foam hardness level
: Medium
Number of units per SKU
: 1
Use
: Domestic
Indoor (yes/no)
: Yes
For use in covered outdoor spaces (yes/no)
: No
For outdoor use (yes/no)
: No
Seating capacity
: 1
Sliding seat (yes/no)
: Yes
Seat removable cover (yes/no)
: Yes
Backrest removable cover (yes/no)
: Yes
Adjustable feet (yes/no)
: No
Armrest included (yes/no)
: Yes
Armrest removable cover (yes/no)
: No
Number of packages
: 1
Packaging materials
: 97% Carton-Paper, 3% Polyethylene terephthalate (PET)
Materials
: Solid Wood, Foam, Fabric, Stainless Steel Legs
Frame construction
: Solid Wood
Seat material details
: Foam, Fabric
Legs material
: Stainless Steel
Unpacking suggestions
: Be careful opening with a knife.
Assembly required (yes/no)
: Yes
Difficulty of assembly
: Easy
Assembly time
: 15min
People required
: 2
Assembly suggestions
:
Assemble on a soft protecting surface.
General warnings
: Do not place near direct sources of heat. Keep away from direct solar light. Do not use abrasive products like acetones, bleaches, solvents, etc. Sharp elements can scratch the product surface.