Woodward TV Table
AED 6,800.00
The Woodward TV Table is a unique table for your TV. It's a rattan product. You'll be able to recognize it by its pretty design and its woven front, which makes it appear light and balanced. It makes the series well-known and feels relaxed and peaceful. The clean and soft look helps remind us to keep the room simple, clean, and minimal in its use and form. In Denmark, the makers of this table got their ideas from peaceful hotels by the sea. They also desire to make their home calm and relaxed. Its transparent and open style reminds us to keep the room simple and neat regarding function and appearance. Cozy Home Dubai's Woodward TV Table is a lovely and tidy space for your TV. The front is woven and looks nice.
It's well-built and holds stuff
You can store things in the cabin
Your room looks neat and clean with this table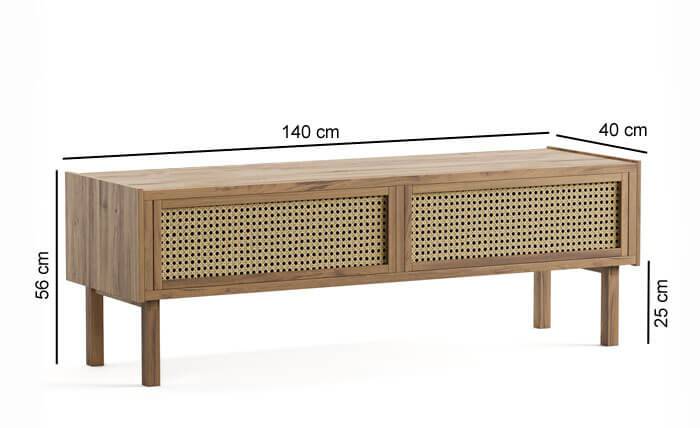 Length
: 140
Width
: 40
Height
: 56
Leg height (cm)
: 25
Leg height (free space under the item)
: 25
Measurement tolerance (±cm)
: 3
Number of units per SKU
: 1
Use
: Domestic
Indoor (yes/no)
: Yes
For use in covered outdoor spaces (yes/no)
: No
For outdoor use (yes/no)
: No
Adjustable feet (yes/no)
: No
Number Of Doors
: 3
Adjustable Shelves
: No
Number of packages
: 1
Package dimensions
: Length 145 cm, Width 45 cm, Height 61 cm
Packaging materials
: 97% Carton-Paper, 3% Polyethylene terephthalate (PET)
Materials
: Teak Wood, Rattan
Main finishing
: Teak Wood
Frame construction
: Teak Wood
Legs material
: Teak Wood
Unpacking suggestions
: Be careful opening with a knife.
Assembly required (yes/no)
: No
General warnings
: Do not place near direct sources of heat. Keep away from direct solar light. Do not use abrasive products like acetones, bleaches, solvents, etc. Sharp elements can scratch the product surface.