Apollo Occasional Marble Table
AED 7,500.00
Apollo Occasional Marble Table
AED 7,500.00
Introducing the 'Apollo Occasional Marble Table', a perfect masterpiece brought to you by Cozy Home Dubai. This exciting piece of furniture is true artwork by professionals. It has a strong as well as a beautiful body. It is adaptable in any space in your home. It can be used to place eatables like a fruit basket or just for showcases. In any case, it will add value to the beauty of your interior design.
The 'Apollo Occasional Marble Table' has its unique style. The marble tabletop gives a luxurious look. Its design has a simple charm in it.
Versatile design that incorporates style and fashion
A perfect contrast marble table top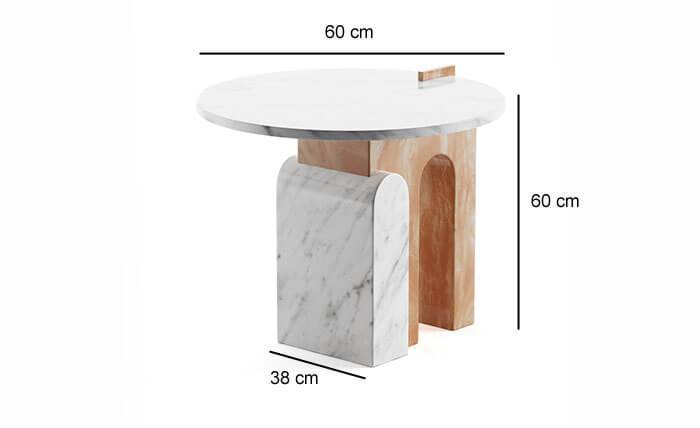 Diameter (cm)
: 60
Height
: 60
Measurement tolerance (±cm)
: 3
Number of units per SKU
: 1
Use
: Domestic
Indoor (yes/no)
: Yes
For use in covered outdoor spaces (yes/no)
: Yes
For outdoor use (yes/no)
: Yes
Number of packages
: 1
Package dimensions
: Length 65 cm, Width 65 cm, Height 65 cm
Packaging materials
: 97% Carton-Paper, 3% Polyethylene terephthalate (PET)
Main material
: Marble
Frame construction
: Marble
Legs material
: Marble
Unpacking suggestions
: Be careful opening with a knife.
Assembly required (yes/no)
: No
General warnings
: Do not place near direct sources of heat. Keep away from direct solar light. Do not use abrasive products like acetones, bleaches, solvents, etc. Sharp elements can scratch the product surface.