Ciara Dining Chair
AED 4,100.00
Introducing the Ciara Dining Chair – a first-class addition to your house from Cozy Home Dubai! This chair is a part of the artwork that offers style and luxury to any space.
The Ciara Dining Chair is a true masterpiece of design.Its frame, crafted from poplar plywood, features a beautifully curved shape that adds grace. The chair's back is adorned with a stunning split detail, further enhancing its overall elegance. It ensured that you could feel comfortable even while sitting. The chair's backrest is padded with polyurethane of various densities, offering the best stability and smoothness. Whether you select leather-based totally or fabric upholstery, you will love how it feels. The Ciara Dining Chair boasts a soft and spherical form; it is not just comfy but attractive to the eye.
Comfortable seat with interwoven elastic strips.
Backrest padding with various densities for best support.
Choice of leather or fabric upholstery.
Soft and curved design for both comfort and aesthetics.
Stylish decorative wooden base.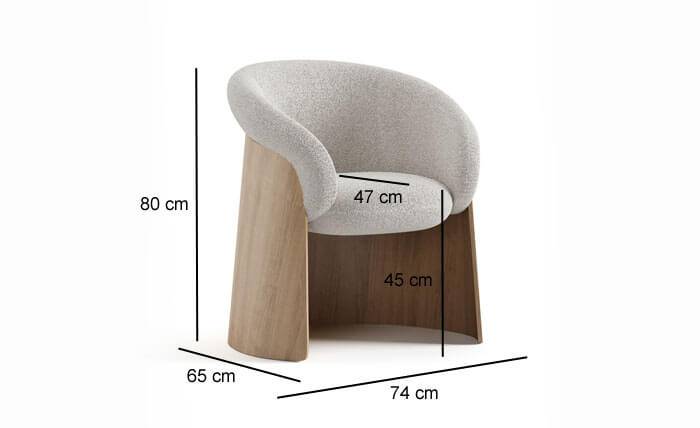 Length
: 74
Depth
: 65
Height
: 80
Seat Height
: 45
Seat WIdth
: 47
Measurement tolerance (±cm)
: 3
Number of units per SKU
: 1
Use
: Domestic
Indoor (yes/no)
: Yes
For use in covered outdoor spaces (yes/no)
: No
For outdoor use (yes/no)
: No
Seating capacity
: 1
Sliding seat (yes/no)
: No
Seat removable cover (yes/no)
: No
Backrest removable cover (yes/no)
: No
Adjustable feet (yes/no)
: No
Armrest removable cover (yes/no)
: No
Additional cushion included (yes/no)
: No
Number of packages
: 1
Package dimensions
: Length: 79cm, Width: 70cm, Height: 58cm
Packaging materials
: 97% Carton-Paper, 3% Polyethylene terephthalate (PET)
Unpacking suggestions
: Be careful opening with a knife.
Assembly required (yes/no)
: No
General warnings
: Do not place near direct sources of heat. Keep away from direct solar light. Do not use abrasive products like acetones, bleaches, solvents, etc. Sharp elements can scratch the product surface.