Emil Rattan Small Table
AED 3,240.00
Introducing the 'Emil Rattan Small Table' by Cozy Home Dubai. This small table is a modern-day requirement for every home, which provides a natural style to your personal space. It is prepared with premium-quality rattan.
The 'Emil Rattan Small Table' has a round tabletop and a two-leg base for a fashionable appearance. It is a versatile piece of furniture that can fit in any décor setting and can be placed in residences and bedrooms. It is made with high-quality rattan that gives a perfect combination of modernity and natural beauty.
A carefully designed table made from top-quality rattan.
Round table top and two legs standing base for a modern appearance.
Versatile design appropriate for any style of decor.
Durable rattan gives a rustic appearance.
Perfect for residing rooms and bedrooms.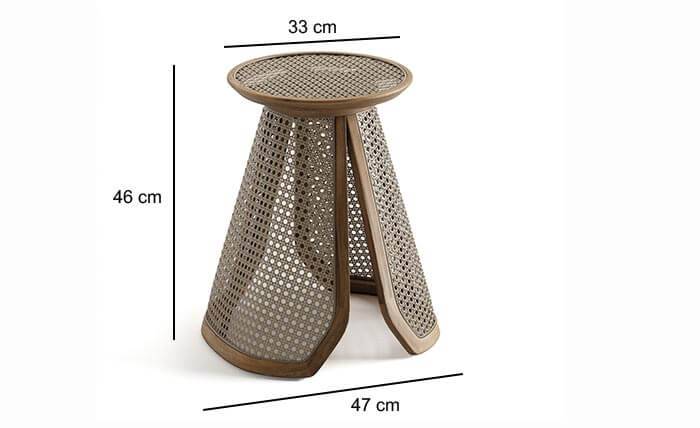 Diameter (cm)
: Top: 33, Bottom: 47
Height
: 46
Measurement tolerance (±cm)
: 3
Number of units per SKU
: 1
Use
: Domestic
Indoor (yes/no)
: Yes
For use in covered outdoor spaces (yes/no)
: No
For outdoor use (yes/no)
: No
Number of packages
: 1
Package dimensions
: Length 52 cm, Width 52 cm, Height 51cm
Packaging materials
: 97% Carton-Paper, 3% Polyethylene terephthalate (PET)
Main material
: Solid Wood
Materials
: Solid Wood, Rattan
Frame construction
: Solid Wood
Unpacking suggestions
: Be careful opening with a knife.
Assembly required (yes/no)
: No
General warnings
: Do not place near direct sources of heat. Keep away from direct solar light. Do not use abrasive products like acetones, bleaches, solvents, etc. Sharp elements can scratch the product surface.