Finley Sideboard
AED 10,750.00
Introducing the Finley Sideboard – a piece of furniture that combines style and function. This sideboard capabilities stylish ball toes made of smooth wood, a very well veneered body, and a luxurious limestone top. But what makes it surely unique is its light and vibrant layout that right away breathes new life into any residing or working area.
The Finley Sideboard's quirky curved strains add a touch of playfulness, flawlessly balanced through the delicate substances used. And due to its impartial shade palette, it easily fits into any room, making it an ideal choice for folks.
Glossy wooden ball for added appeal.
Luxurious limestone pinnacle for a hint of luxuriousness.
Light and shiny design to refresh your space.
Quirky curved traces for playful contact.
Neutral color palette for easy integration into any room.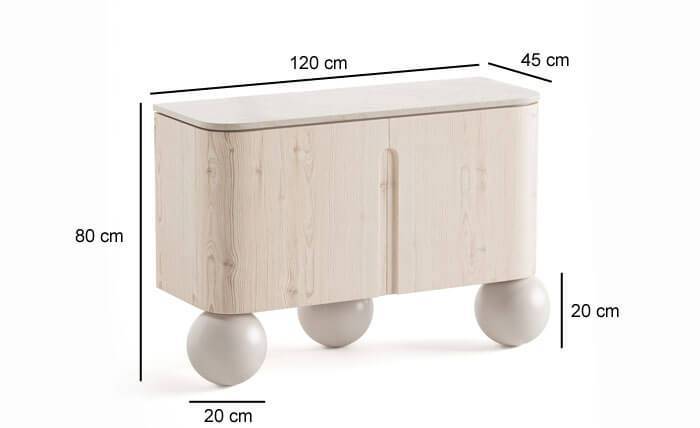 Length
: 120
Width
: 45
Height
: 80
Leg height (cm)
: 20
Leg height (free space under the item)
: 20
Measurement tolerance (±cm)
: 3
Number of units per SKU
: 1
Use
: Domestic
Indoor (yes/no)
: Yes
For use in covered outdoor spaces (yes/no)
: Yes
For outdoor use (yes/no)
: No
Adjustable feet (yes/no)
: No
Number Of Doors
: 2
Number Of Shelves
: 2
Adjustable Shelves
: No
Number of packages
: 1
Package dimensions
: Length 125 cm x Width 50 cm x Height 85 cm
Packaging materials
: 97% Carton-Paper, 3% Polyethylene terephthalate (PET)
Main material
: Solid Wood
Frame construction
: Solid Wood
Legs material
: Solid Wood
Unpacking suggestions
: Be careful opening with a knife.
Assembly required (yes/no)
: No
General warnings
: Do not place near direct sources of heat. Keep away from direct solar light. Do not use abrasive products like acetones, bleaches, solvents, etc. Sharp elements can scratch the product surface.