Ligo Rattan Cabinet
AED 9,150.00
Ligo Rattan Cabinet
AED 9,150.00
Cozy Home Dubai presents the 'Ligo Rattan cabinet'. It is a true masterpiece that shows a balance between modern appeal and a mid-century look. Its woven rattan doors are dome-shaped, and the teak-layered panel depicts a perfect style of natural beauty.
Transform your bedroom with the 'Ligo Rattan Cabinet'. Its two towering doors show enough storage area inside the cabinet. If you are seeking a stylish closet in your home, this cabinet will be the best option for you. To accommodate all your belongings, this cabinet has two spacious drawers, which are the additional storage spaces. The two shelves allow quick access to your stuff. The interesting design of the rattan doors catches everyone's attention. Its curved shape from the top and the rattan detailing showcase a unique style.
Two tall doors for spacious storage
Two additional drawers for neat storage
Webbing rattan doors for visual interest
Unique curved shape and rattan detailing
Ample storage space for your stuff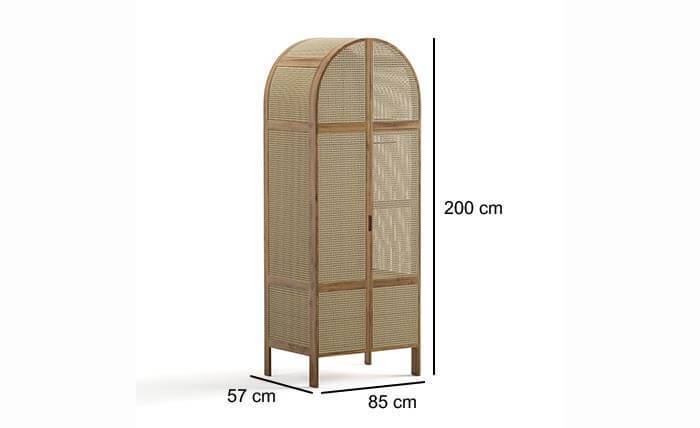 Length
: 85
Width
: 57
Height
: 200
Leg height (cm)
: 15
Leg height (free space under the item)
: 15
Measurement tolerance (±cm)
: 3
Number of units per SKU
: 1
Use
: Domestic
Indoor (yes/no)
: Yes
For use in covered outdoor spaces (yes/no)
: No
For outdoor use (yes/no)
: No
Adjustable feet (yes/no)
: No
Number of packages
: 1
Package dimensions
: Length 90cm, Width 62cm, Height 205cm
Packaging materials
: 97% Carton-Paper, 3% Polyethylene terephthalate (PET)
Main material
: Solid Wood
Materials
: Solid Wood, Rattan
Main finishing
: Teak Wood Finish
Frame construction
: Solid Wood
Legs material
: Solid Wood
Unpacking suggestions
: Be careful opening with a knife.
Assembly required (yes/no)
: No
General warnings
: Do not place near direct sources of heat. Keep away from direct solar light. Do not use abrasive products like acetones, bleaches, solvents, etc. Sharp elements can scratch the product surface.