Marshmallow King Size Bed
AED 8,995.00
Introducing the Marshmallow King Size Bed, a dreamy addition to your bedroom from Cozy Home Dubai! This bed is a masterpiece of design and luxury. Its stylish shape, finished in warm walnut, gives robust support for a night's sleep.
The headboard is an excellent combination of fashion and coziness. You can choose between eco-leather or fabric upholstery, permitting you to customize your bed to your taste. The Marshmallow King Size Bed is solid and stylish, resting gracefully on two stainless steel feet with a matte finish.
Elegant structure in a warm velvet finish.
Customizable upholstery in eco-leather or fabric.
Stylish layout headboard for added appeal.
Two strong stainless steel feet with a matte finish.
Mattress : Length 180 cm x Width 200 cm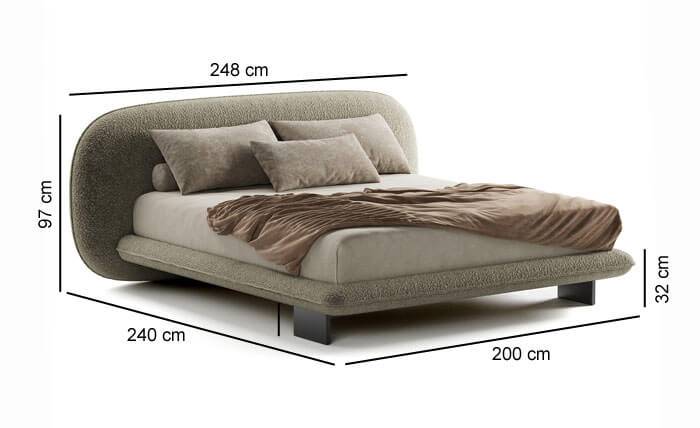 Length
: 248
Width
: 240
Height
: 97
Leg height (cm)
: 15
Leg height (free space under the item)
: 15
Measurement tolerance (±cm)
: 3
Use
: Domestic
Indoor (yes/no)
: Yes
For use in covered outdoor spaces (yes/no)
: No
For outdoor use (yes/no)
: No
Adjustable feet (yes/no)
: No
Packaging materials
: 97% Carton-Paper, 3% Polyethylene terephthalate (PET)
Materials
: Solid wood, Foam, Fabric, Stainless Steel Legs
Frame construction
: Solid Wood
Legs material
: Stainless Steel
Unpacking suggestions
: Be careful opening with a knife.
Assembly required (yes/no)
: Yes
Difficulty of assembly
: Moderate
Assembly time
: 25min
People required
: 2
Assembly suggestions
:
Assemble on a soft protecting surface.
General warnings
: Do not place near direct sources of heat. Keep away from direct solar light. Do not use abrasive products like acetones, bleaches, solvents, etc. Sharp elements can scratch the product surface.